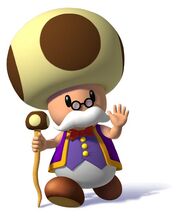 Toadsworth is an male adult Toad in the fighting and singing Super Smash Bros. Bowl (series). He appeared in High School Musical movie's I Want It All, All for One, What Time Is It?, You are the Music in Me (Sharpay) and We're All in This Together.
BATC history
Edit
To date, Toadsworth has qualified for the BATC finals in seasons 1, 2, and 4. He failed to qualify for the season 6 finals due to the death of Justin Wilson.
Part of the show's crowed, Toadsworth watched Indianapolis qualifying for the American Ninja Warrior show in 2016 because of NASCAR and IndyCar competing.
Eastern Ontario

Pearl Krabs

,

Brooke Burke Charvet

,

Allen Ford

,

Mrs. Puff

,

Sharpay Evans

,

Ryan Evans

,

Chad Danforth

,

Taylor McKessie

,

Troy Bolton

,

Gabriella Montez

,

Crystal Grierson

,

Trina Vega

,

Tori Vega

,

Jade West

,

Cat Valentine

,

Nicky Sapera

,

Evan Cundal

,

Lindsay Goldman

,

Dave Shugar

,

Mao Asada

,

Mai Asada

,

Halley Van Muyen

,

Caroline Dalpe

,

Yuna Kim

,

SpongeBob SquarePants

,

Patrick Star

,

Squidward Tentacles

,

Sandy Cheeks

,

Mr. Krabs

,

Plankton

,

Squilliam Fancyson

,

Karen Plankton

,

Tasha

,

Louis van Amstel

,

Mark Ballas

,

Toad

,

Toadette

,

Yoshi

,

Birdo

,

Troypay

,

Akiko Suzuki

,

Shannon Fielding

,

Boinga

,

Lava Springs Country Club

,

E.M.I.L.P

,

Betsy Krabs

,

Nesmith

,

Empress Tasha

,

Empress Kelsi

,

High School Musical

,

High School Musical 2

,

High School Musical 3: Senior Year

,

Julianne Hough

,

Olesya Rulin

,

East High

,

Mrs. Montez

,

Nat Peterson

,

O Canada

,

O Narnia

,

O Hogwarts

,

Tom Green

,

Boo

,

O SpongeBob

,

Khloé Kardashian

,

Maria Kanellis

,

Katy Perry

,

Kelly Clarkson

,

Nicki Minaj

(

Onika Tanya Maraj

,

Nicki Maraj

,

Onika Tanya Minaj

,

Starships

),

Avril Lavigne

,

Rihanna

,

Mark Aln

,

Jesse G. James

,

Kitty Katswell

,

Zsa Zsa Gabor

,

Vera Lynn

,

Jerry Lewis

,

Chuck Berry

,

Christopher Lee

,

Aretha Franklin

,

Van Cliburn

,

Penny Marshall

,

Bruce Forsyth

,

Olivia de Havilland

,

Joan Fontaine

,

Jane Wyman

,

Dylan and Cole Sprouse

,

Shakira

,

June Allyson

,

Gerald Ford

,

Grim Reaper

,

Grim Reaper (2006-2009)

 •

Jules Bianchi

 •

Justin Wilson

Wipeout Canada
Countries
HSM Songs

Start of Something New

,

Get'cha Head in the Game

,

What I've Been Looking For

,

What I've Been Looking For (Reprise)

,

Stick to the Status Quo

,

When There Was Me and You

,

Bop to the Top

,

Breaking Free

,

We're All In This Together

,

I Can't Take My Eyes Off of You

,

What Time Is It? (Summer Time's Version)

,

Fabulous

,

Work This Out

,

You Are the Music In Me

,

I Don't Dance

,

You Are the Music In Me (Sharpay)

,

Gotta Go My Own Way

,

Bet on It

,

Everyday

,

All for One

,

Humuhumunukanuka'apua'a

,

Now Or Never

,

Right Here, Right Now

,

I Want It All

,

Can I Have This Dance?

,

A Night To Remember

,

Just Wanna Be With You

,

The Boys are Back

,

Walk Away

,

Scream

,

Senior Year Spring Medley

,

We're All In This Together

,

High School Musical

BATC contestants (Season 1)

Season 1 (

Adam Carolla

,

Akiko Suzuki

(Nicky Sapera),

Akito Watabe

,

Allen Ford

,

Apolo Anton Ohno

,

Benjamin Karl

,

Bristol Palin

,

Drake

,

Drew Lachey

,

Emmitt Smith

,

Empress Tasha

,

Evan Cundal

,

Evgeni Plushenko

,

Gilles Marini

,

Hélio Castroneves

,

Ina Meschik

,

Jiroemon Kimura

,

Joey Fatone

,

Justyna Kowalczyk

,

Katy Perry

,

Kelly Clarkson

,

Kelly Monaco

,

Khloé Kardashian

,

Kim Kardashian

,

Kirstie Alley

,

Kourtney Kardashian

,

Lisa Rinna

,

Lucas Grabeel

,

Marlee Matlin

,

Melissa Joan Hart

,

Melissa Rycroft

,

Mathieu Giroux

,

Nicki Minaj

,

Nicky Sapera

,

Roger Federer

(Evan Cundal),

Noriaki Kasai

,

Olga Fatkulina

,

Pamela Anderson

,

Priscilla Presley

,

Sabrina Bryan

,

Shawn Johnson

,

Sung Si-Bak

,

Sven Kramer

,

Sylvain Dufour

,

Tomoka Takeuchi

,

Vic Wild

,

Viktor Ahn

(Jiroemon Kimura),

Vita Semerenko

,

Vladimir Grigorev

(Allen Ford),

Zbigniew Bródka

)

BATC contestants (Season 2)

Season 2 (

Austin Fannin

,

Big Sean

,

Britney Spears

,

Brooke Burke Charvet

,

Crystal Grierson

,

David Bowie

,

David Guetta

,

Donald Driver

,

Donny Osmond

,

Hines Ward

,

J. R. Martinez

,

Jennie Finch

,

Jennie Garth

,

Jennifer Grey

,

Jennifer Lopez

,

Joanna Krupa

,

Justin Bieber

,

Katherine Heigl

,

Katherine Jenkins

,

Kid Cudi

,

Kristi Yamaguchi

,

Kristin Cavallari

,

Laila Ali

,

Lil Wayne

,

Maria Kanellis

,

Maria Menounos

,

Maria Redaelli-Granoli

,

Marie Osmond

,

Mario Lopez

,

Mark McGrath

,

Masao Kaga

,

Mel B

,

Michael Irvin

,

Mýa

,

Nas

,

Nicole Scherzinger

,

Regis Philbin

,

Ricki Lake

,

Rob Kardashian

,

Ryan Duchak

,

William Levy

,

Yoshi Kitamura

,

Young Jeezy

)

BATC contestants (Season 3)

Season 3 (

Alexandra Raisman

,

Amber Riley

,

Andy Dick

,

Arturo Licata

,

Avril Lavigne

,

Bella Throne

,

Bernice Madigan

,

Beth Tweedle

,

Bill Engvall

,

Bill Nye

,

Brant Daugherty

,

Cam Connor

,

Christina Milian

,

Cody Good

,

Cody Linley

,

Corbin Bleu

,

D. L. Hughley

,

Dorothy Hamill

,

Elizabeth Berkley Lauren

,

Gabrielle Douglas

,

Georgina Rizk

,

Harry Styles

,

Ingo Rademacher

,

Jack Osbourne

,

Jacoby Jones

,

Jesse G. James

,

Kellie Pickler

,

Kerli

,

Kesha

,

Keyshawn Johnson

,

Kris Allen

,

Leah Remini

,

Liam Payne

,

Lisa Vanderpump

,

Nicole "Snooki" Polizzi

,

Nicole Cortese

,

Ozzy Osbourne

,

PSY

,

Rachel Riley

,

Riyo Mori

,

Sean Lowe

,

Shakira

,

Steve Harvey

,

T-Pain

,

Taylor Swift

,

Tom Cruise

,

Valerie Harper

,

Victor Ortiz

,

Wynonna Judd

,

Zendaya Coleman

)

BATC contestants (Season 4)
BATC contestants (Season 5)
BATC contestants (Season 6)
BATC contestants (Season 7)
BATC season 8 contestants
BATC season 10 contestants
Pokémon
Others

Young Money

,

Pink

,

List of character appearances

,

List of pending cases

,

List of living supercentenarians

,

Altaria

,

Will Power

,

Decidueye

,

Metagross

,

Beartic

,

Larvesta

,

James Hinchcliffe

,

Josef Newgarden

,

Ueli Kestenholz

,

Jonathan Bald

,

Philip Demers

,

Simon Pagenaud

,

Larry Birkhead

,

Nidoking

,

Cameron Marshall

,

Maneesh Gupta

,

Allen Ford

,

Marko Manieri

,

Apolo Anton Ohno

,

Skorupi

,

Joey Fatone

,

Vaporeon

,

Pee Saderd

,

Volcarona

,

Ryan Hunter-Reay

,

Jirayu La-ongmanee

,

Mario Lopez

,

Heracross

,

Chespin

,

Pidgeot

,

Scott Dixon

,

Graham Rahal