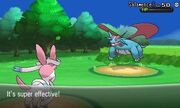 The fairy type is one of the types of Pokemon. For the first time since the second generation, the fairy type is the 18th and newest type to Pokémon introduced in Generation VI. The fairy type assembles you to anything magic.
Some of the Pokemon that were original types changed or added the fairy type.
Relations
Trivia
Diancie is dual fairy/rock, so in Shuffle it was a Fairy type. The only type that is twice strong against a Diancie would be a steel type Pokemon, because they are good against both fairies and rocks.
Heracross is one of the Pokemon that double resist Fairy types, popularly due to it's Bug/Fighting type.
By defence, they resist the Bug, Fighting and Dark types.
Fairy was the first type of Pokemon to be added after Jiroemon Kimura's death.
Every type that resist Fairy moves also resist Grass and Bug.

In addition, all three of them are weak to Ground type moves.
Seasons
Notable events
Parody Songs
Dead Contestants
BATC Finals
BATC contestants (Season 1)

Season 1 (

Adam Carolla

,

Akiko Suzuki

(Nicky Sapera),

Akito Watabe

,

Allen Ford

,

Apolo Anton Ohno

,

Benjamin Karl

,

Bristol Palin

,

Drake

,

Drew Lachey

,

Emmitt Smith

,

Empress Tasha

,

Evan Cundal

,

Evgeni Plushenko

,

Gilles Marini

,

Hélio Castroneves

,

Ina Meschik

,

Jiroemon Kimura

,

Joey Fatone

,

Justyna Kowalczyk

,

Katy Perry

,

Kelly Clarkson

,

Kelly Monaco

,

Khloé Kardashian

,

Kim Kardashian

,

Kirstie Alley

,

Kourtney Kardashian

,

Lisa Rinna

,

Lucas Grabeel

,

Marlee Matlin

,

Melissa Joan Hart

,

Melissa Rycroft

,

Mathieu Giroux

,

Nicki Minaj

,

Nicky Sapera

,

Noh Jin-Kyu

(Evan Cundal),

Noriaki Kasai

,

Olga Fatkulina

,

Pamela Anderson

,

Priscilla Presley

,

Sabrina Bryan

,

Shawn Johnson

,

Sung Si-Bak

,

Sven Kramer

,

Sylvain Dufour

,

Tomoka Takeuchi

,

Vic Wild

,

Viktor Ahn

(Jiroemon Kimura),

Vita Semerenko

,

Vladimir Grigorev

(Allen Ford),

Zbigniew Bródka

)

BATC contestants (Season 2)

Season 2(

Austin Fannin

,

Big Sean

,

Britney Spears

,

Brooke Burke Charvet

,

Crystal Grierson

,

David Bowie

,

David Guetta

,

Donald Driver

,

Donny Osmond

,

Hines Ward

,

J. R. Martinez

,

Jennie Finch

,

Jennie Garth

,

Jennifer Grey

,

Jennifer Lopez

,

Joanna Krupa

,

Justin Bieber

,

Katherine Heigl

,

Katherine Jenkins

,

Kid Cudi

,

Kristi Yamaguchi

,

Kristin Cavallari

,

Laila Ali

,

Lil Wayne

,

Maria Kanellis

,

Maria Menounos

,

Maria Redaelli-Granoli

,

Marie Osmond

,

Mario Lopez

,

Mark McGrath

,

Masao Kaga

,

Mel B

,

Michael Irvin

,

Mýa

,

Nas

,

Nicole Scherzinger

,

Regis Philbin

,

Ricki Lake

,

Rob Kardashian

,

Ryan Duchak

,

William Levy

,

Yoshi Kitamura

,

Young Jeezy

) •

Ueli Kestenholz

BATC contestants (Season 3)

Season 3(

Alexandra Raisman

,

Amber Riley

,

Andy Dick

,

Arturo Licata

,

Avril Lavigne

,

Bella Throne

,

Bernice Madigan

,

Beth Tweedle

,

Bill Engvall

,

Bill Nye

,

Brant Daugherty

,

Cam Connor

,

Christina Milian

,

Cody Good

,

Cody Linley

,

Corbin Bleu

,

D. L. Hughley

,

Dorothy Hamill

,

Elizabeth Berkley Lauren

,

Gabrielle Douglas

,

Georgina Rizk

,

Harry Styles

,

Ingo Rademacher

,

Jack Osbourne

,

Jacoby Jones

,

Jesse G. James

,

Kellie Pickler

,

Kerli

,

Kesha

,

Keyshawn Johnson

,

Kris Allen

,

Leah Remini

,

Liam Payne

,

Lisa Vanderpump

,

Nicole "Snooki" Polizzi

,

Nicole Cortese

,

Ozzy Osbourne

,

PSY

,

Rachel Riley

,

Riyo Mori

,

Sean Lowe

,

Shakira

,

Steve Harvey

,

T-Pain

,

Taylor Swift

,

Tom Cruise

,

Valerie Harper

,

Victor Ortiz

,

Wynonna Judd

,

Zendaya Coleman

)

BATC contestants (Season 4)
BATC contestants (Season 5)
BATC contestants (Season 6)
BATC contestants (Season 7)
Types