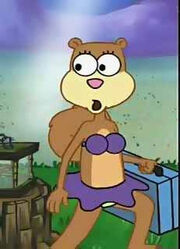 The Cheeks family is a Nickelodeon family for Sandy Cheeks and the rest of the whole family.
Characters
Edit
Sandy Cheeks is the main female character of the Cheeks family. She is played by Carolyn Lawrence, but she lives in a treedome, she gets fleas in A Flea in Her Dome and SpongeBob's Last Stand. Sandy Cheeks is also from Orléans, Ontario (part of Ottawa, ON) because Sandy Cheeks lives near the house of Crystal Grierson of Ottawa.
Randall Cheeks
is
Sandy
's main brother in the
Cheeks family
. He is only mentioed in
Beauties vs Geeks
.
Mr. Cheeks is the father of Sandy Cheeks and Randall Cheeks.
Ms. Cheeks is the mother of Sandy Cheeks and Randall Cheeks.